[2022] Camille Glass
| | |
| --- | --- |
| Speciality | Wine |
| From | Hong Kong |
| Company | Brut! |
| Position | Restaurant Owner |
Camille Glass is the Co-Founder of SideNote, a Hong Kong-based hospitality group whose concepts include Brut!, Pondi, Fat Chad's and Crushed Wines.

A pioneering concept creator, she is one of the most impactful female expatriate entrepreneurs in the Hong Kong F&B space. Her concepts Brut!, Pondi, Fat Chad's and Crushed Wines, all of which have a cult following amongst those who value exceptionally well researched, executed and priced food and wine.

Self-raised from age 15, the tenacious business owner secured a place at France's most prestigious culinary schools, Ferrandi. Having completed her culinary studies, she took up an intensive apprenticeship at Youpi et Voilà under renowned Chef Patrice Gelbart.

In 2013, she relocated to Hong Kong to work with Serge et le Phoque, a whimsical French restaurant behind the Wan Chai Market. The magnetic restaurant retained a Michelin star for three years from 2015, before closing in 2018.

In 2014, Camille and her partner opened Á Table – a speakeasy-style private kitchen that served up an ambitious rotating menu whilst Camille shared her wine expertise with their enthusiastic customers. Her off-script bottle recommendations soon established Camille as an expert in creative wines, and she was quickly recruited by leading natural focused wine bar La Cabane in 2015.

In 2016 Camille established FOB Wines in collaboration with Larry Tang of LocoFama group, whom she had consulted for years. She built out the FOB space from scratch in a quiet, leafy corner of Sai Ying Pun and crafted a thoughtful tapas menu that complemented her unique wine philosophy. Despite operating as a one-man-band, FOB became a de facto social hub for the Sai Ying Pun community, and she quickly fell in love with the neighbourhood.

18 months later, when a space became available on Second Street, Camille decided to go all in and create a boutique restaurant concept that simultaneously celebrated storytelling through wine and food – Brut!

Today, Camille is an established hospitality leader with three intimate restaurants and a wine business under her belt, all in her beloved Sai Ying Pun neighbourhood.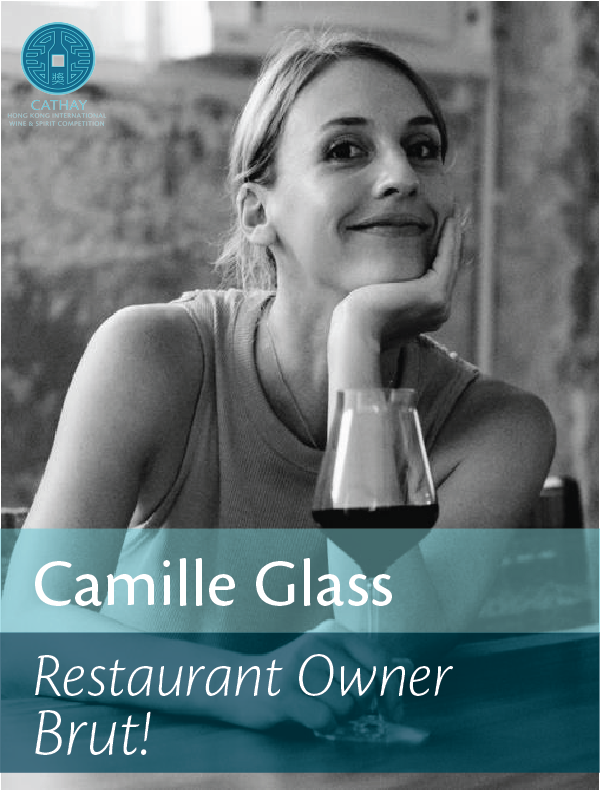 "I would love to offer a fresh perspective on the gorgeous line up.

"It's a new adventure for me. My first experience as a judge!"