Asian Food Pairing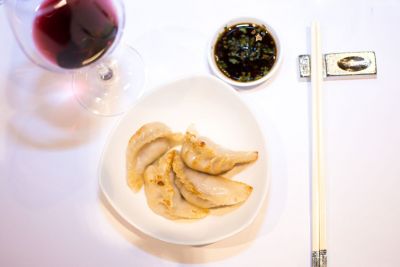 The only international wine competition to offer a full program of Asian food and wine pairing awards, including sake
8 dishes from across Asia in 2018. See tips on which wines and sake to enter with which dishes
Unique PR and exposure opportunities for winners throughout the year
Winners published in leading "foodie" guides in Asia
A unique opportunity to win medals and showcase your wines and sake to Asia's thriving dining scene. A brief description of each dish are given below, along with some wine pairing "tips" – note these are just suggestions!
Competition Director Debra Meiburg MW explains, "the Asian food and wine pairing is often the most interesting category to judge, as it always throws up some surprising matches… It has really shifted pre-conceived notions about what wines and sake matches best with Asian cuisine."
The judging of the Asian Food & Wine Pairing category (which inludes sake) follows the same format as the wine and spirit categories.
Key
Celebration - A celebratory dish
Classic - A traditional dish
Lifestyle – An everyday dish
International – An internationally-renowned dish
CHINESE / JAPANESE / VIETNAMESE / KOREAN

A) CHINESE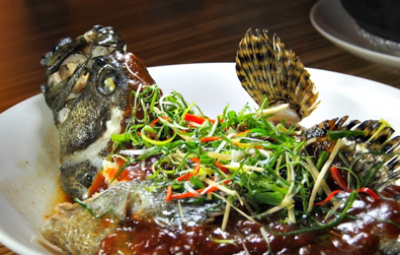 Steamed Garoupa
[Category: Traditional and Celebration]
Cantonese cuisine originates from Guangdong, a coastal province in southern China, so seafood plays a starring role. Steaming, and a modest use of spices and seasoning, is favoured in Cantonese cooking, creating the cuisine's signature delicate textures and light flavours. Soy sauce, ginger and spring onion are usually the only ingredients added to steamed fish, especially the highly prized garoupa, an important wedding and celebration banquet dish.
With a small but notable fat content, garoupa fish needs a wine with balanced acidity. The saltiness of the soy sauce must also be considered. Medium-bodied, medium acidity wines are a great match – good pairings include chardonnay, sauvignon blanc, Sancerre white, viognier, rosé and light pinot noir.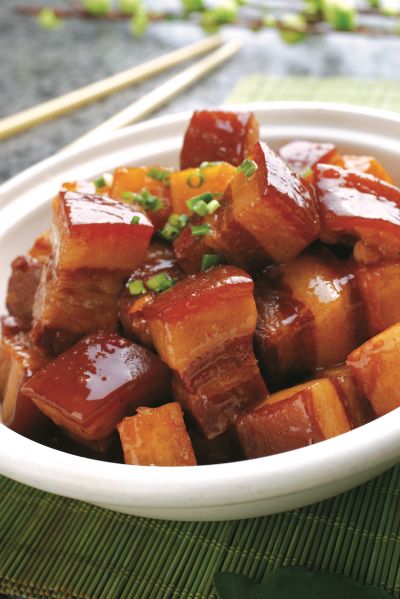 Dong Bo Rou (Braised Pork Belly)
[Category: Traditional and Lifestyle]
While a very fatty cut of meat, pork belly is the perfect choice for braised recipes. Cut into squares, the pork belly is first blanched, then slowly braised with sugar, light and dark soy sauce and traditional Chinese shaoxing alcohol, resulting in a deep vibrant chocolate-brown coating. A very long braising process is needed to produce the aromatic, succulently tender pork belly, which is traditionally served tied with string.
Meat with a high fat content requires good acidity to balance, but the minerality is also key in the pairing, to harmonise with the soy-based dressing. An off-dry, high acidity white wine, like riesling, is a good choice. GSM, zinfandel or rosé also pair well. The chosen wine will need to show richness to pair with the sweet flavors of this dish.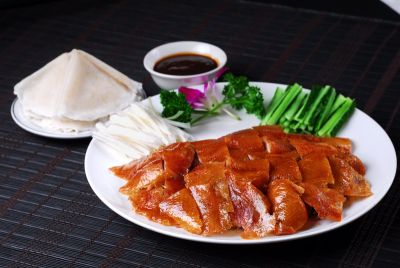 Peking Duck
[Category: Traditional and Celebration]
Peking Duck is a locally- and internationally-loved Chinese dish, with roots dating back to the Imperial era in Beijing. Traditionally sliced in front of the diners by the cook, Peking Duck is usually eaten in three courses, the most famous of which is in pancakes. A generous portion of crispy skin and a sliver of meat are topped with hoisin sauce and sliced scallions, then wrapped in delicate savoury pancakes. Sugar is sometimes added to the skin, adding an extra flavour dimension.
While pinot noir is a natural match for duck, wines with nice acidity with some residual sugar make a great combination with the duck meat and rich, sweet-salty sauce. Try an off-dry white, like a Riesling Spatlese. A ripe syrah/shiraz with fine tannins and low acidity would also pair very well.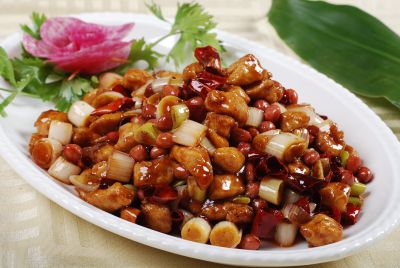 Kung Pao Chicken
[Category: Traditional / International]
Kung Pao Chicken is a spicy, stir-fried Sichuan Chinese dish made with chicken, peanuts, vegetables, and chili peppers. It originated in the Sichuan Province of south-western China, and features handfuls of the region's signature Sichuan peppercorns, which are the defining feature of the dish, giving it a distinctive flavour and numbing sensation.
A wine with some residual sugar, along with a moderate alcohol content helps keep the dominate flavours and spice in balance. Off-dry whites like gewurztraminer and sémillon would make great matches for this dish. For reds, ripe fruit and medium body, or even a semi-sweet red, will balance the spiciness, while complementing the complexity of the dish.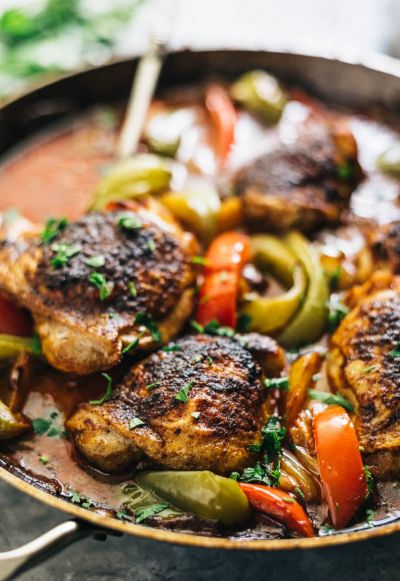 Macanese African Chicken (Galinha à Africana)
[Category: Traditional / Celebration]
With 450-year old roots, Macanese cuisine is believed to be one of the world's original "fusion cuisines". It blends Southern Chinese and Portuguese ingredients, as well as influences from Portugal's other former colonies like Goa, Brazil, and parts of Africa. Loaded with pungent spices, African Chicken, is the beloved national dish of Macau and quintessentially Macanese. The aromatic sauce features coconut and peanuts, paprika, white wine and red bell peppers.
While not a spicy dish, the richness of the sauce needs a wine with enough body to match the weight and complexity of flavours. An aromatic and fruity white wine would work well, as would a low-tannin red wine. It also pairs well with a medium to full-bodied sparkling wine.
B) JAPANESE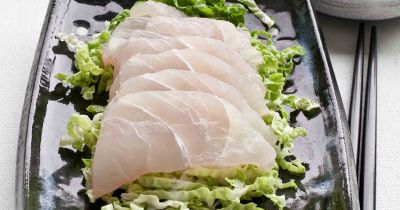 White Sashimi
[Category: Traditional / International]
Sashimi is raw, thinly sliced fish, traditionally eaten with soy sauce and wasabi. An integral part of Japanese cuisine for hundreds of years, sashimi is always part of a formal Japanese meal, served first to ensure the palate is clear enough to appreciate its delicacy and freshness. White sashimi is usually made with either suzuki (sea bass) or tai (sea bream).
The naturally savoury white sashimi is often matched with delicate beverages so not to overpower its subtle flavours and freshness. Sparkling wines, elegant white wines, rosé and sake make ideal pairings for white sashimi.
C) VIETNAMESE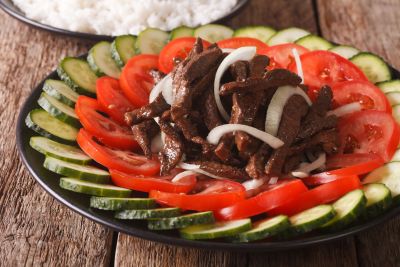 Bò lúc lắc (Vietnamese Shaking Beef)
[Category: Traditional / Lifestyle]
A celebration dish, bò lúc lắc "shaking beef" is named because of the vigourous pan-shaking required to perfectly cook the cubed beef. The beef is marinated, stir-fried until tender, and served with a salad of tomatoes, onions and green salad leaves (traditionally watercress). Its flavours revolve around interplay between the main ingredients of its marinade and final dressing - oyster sauce, fish sauce, soy sauce, garlic/onions, sugar, salt, lime, vinegar and beef of course!
The lively piquant nuances of the sweet, sour and salty match well with zesty or tropical new world sauvignon blancs. The heat and spice would work well with partially oaked, warm climate chardonnays, off dry rieslings and mtsvane. A lightly oaked and ripe, plum-driven malbec or cabernet sauvignon with plushy tannins would work nicely with the beef.
D) KOREAN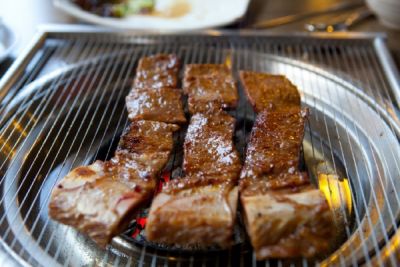 Galbi (Korean Grilled Beef)
[Category: Traditional / Celebration]
Galbi ("galbi-gui") is a typical Korean barbecue dish of thinly-sliced beef short ribs, which are smoky, sweet, and full of flavour. The ribs are marinated in a mixture of sauces and spices, including Korean pear, which gives it a unique sweetness, then grilled. To serve, it is often wrapped in lettuce leaves.
A medium-bodied red wine marries well - try Bordeaux, Chianti Classico, merlot, and tempranillo. Fruit-driven wines like Australian and Chilean shiraz and zinfandel – a wonderful barbecue wine - are also good choices. Avoid anything too complex, heavy, or earthy that will compete with the explosion of flavors in a Korean barbecue dinner.
What our judges say about Food & Wine Pairings…
"Judging the Asian food and wine pairing awards is particularly meaningful to me as it connects well to the broader food-first wine-second population. … Asians love food, and a wine competition that includes a food and wine pairing award makes me more relevant and applicable to the local markets."
Anty Fung
General Manager
Hip Cellar
Hong Kong
"While there is well-established culture in western cuisine and wine pairing, the Food & Wine Pairing category inspires people to think about local style matching."
Matt Hui
Senior Educator
Sommelier
Hong Kong
"The food and wine judging is definitely a highlight – seeing what challenges the kitchen has cooked up each year and what wines have been submitted almost always yields some startling pairing surprises!"
Sarah Heller
Proprietor Heller Beverage Advisory
Hong Kong
"As probably the only international wine competition to organise pairing of wines with a variety of Asian and Indian foods, this is an incredibly fascinating and relevant feature of the HKIWSC as more and more consumers wish to be better enlightened on this aspect of wine appreciation."
Sonal Holland MW
Founder & Director
SOHO Wine Club & Sonal Holland Wine Academy
Mumbai, India