Asian Food Pairing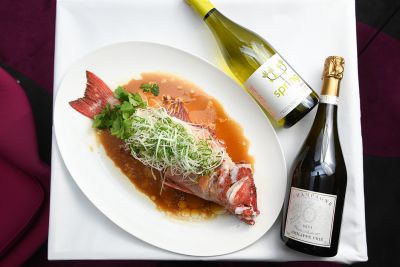 The only international wine competition to offer a full program of Asian food and wine pairing awards, including sake
Unique PR and exposure opportunities for winners throughout the year
Winners published in leading "foodie" guides in Asia
A unique opportunity to win medals and showcase your wines and sake to Asia's thriving dining scene. A brief description of each dish are given below, along with some wine pairing "tips" – note these are just suggestions!
The judging of the Asian Food & Wine Pairing category (which inludes sake) follows the same format as the wine and spirit categories.
A) CHINESE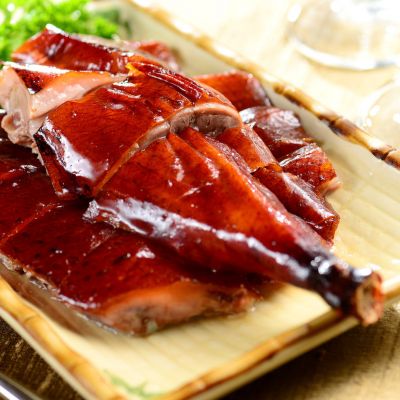 Roasted Goose
Found mostly in Southern China, particularly in Guangdong Province. Traditionally roasted in charcoal furnace, the cooked goose is famous for its crispy skin, juicy and tender meat. It is usually served sliced, with plum sauce on the side.
The gamey flavour and occasional high fat content of the dish are compatible with full-body yet less aggressive reds. The spiciness and oakiness in the wine can be a magnificent match with the smokiness of the goose. Consider also medium sweet or aromatic white wines with stone fruit profiles as an alternative for plum sauce.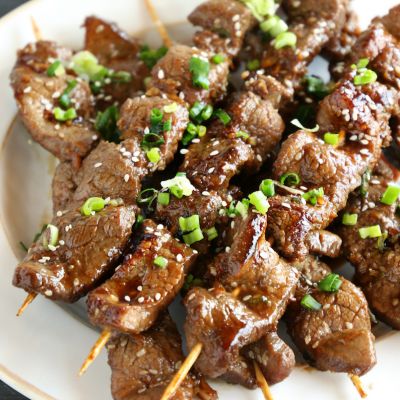 Mutton Shashlik in Inner Mongolia Style
Originated from over 1800 years ago, this is a popular street food across China. In the Northern parts of the country, you can find vendors of Mutton Shashlik everywhere. Grilled with a dash of chili spice, salt, cumin powder, the meat has a strong flavor and is garnished with Asian spiciness. Moreover, the meat is coated with a layer of egg white and flour mixture before the grill, infusing the meat with a touch of sweetness and crispiness.
Fruity red wine could be paired with the meat's complex flavour. Off-dry white sake might also match well with the spiciness of the dish. Sparkling wine would also be lovely to refresh the palate.
B) JAPANESE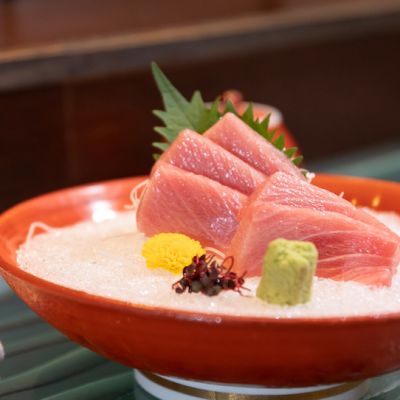 Tuna Sashimi (Chutoro)
It is the fatty part of the tuna found around the belly. It is of "medium fattiness", meaning that the fat content is layered with its flesh, imparting a sweet umami flavour. Dry white wine and/or sparkling wine with light to medium body, or even a light red with minerality could pair well with it.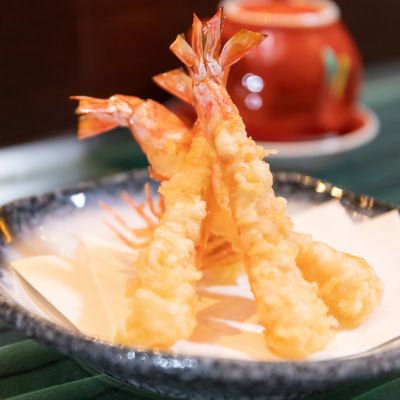 Tempura Shrimp
Probably the most internationally popular tempura dish. In Japan, the flakiness of the tempura batter crumbs is usually on point, so that both the crispy edge and the umami characters of the shrimp could be appreciated at the same time. Wines that can enhance its umami and also balance the oiliness of the crumbs would marry well with the dish. Dry mineral white wine or sparkling wine with a heavier mouthfeel is also recommended.
C) SINGAPOREAN
Hai Nan Chicken Rice
Poached chicken with seasoned rice. Although it is considered as one of Singapore's national dishes, it is also common in other parts of Southeast Asia. Apart from the soft chicken, the highlight of this dish is definitely the buttery and flavorful rice prepared with chicken fat, ginger, garlic and Pandan leaves. The dish is typically served with three sauces: minced red chili and garlic, dark soy sauce, and freshly ground ginger.
With a rich flavor profile of the chicken, rice and sauce, the dish can pair with a variety of white wines – crispy whites with the delicate chicken, off-dry whites with the spicy sauce, etc. A sharp acidity in the wine would ameliorate the grease of the rice as well.
D) INDIAN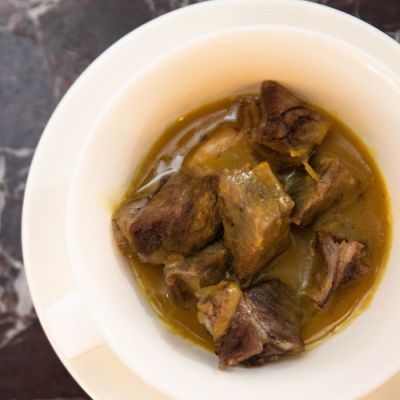 Indian Beef Curry
When compared with other genres of Southeast Asian curry, Indian curry is usually much hotter and less sweet. It is very flavorful thanks to a myriad of herbs and spices.
To counter balance the hot spices in the dish, chilled wines with a lower alcohol content are usually a safe bet. Refreshing rosé or sparkling wine would carry well. Dry yet aromatic, or off-dry wines are also wonderful choices. Fruity red wines could also be considered to pair with the beef. Avoid wine overloaded with oak flavour, however.
E) VIETNAMESE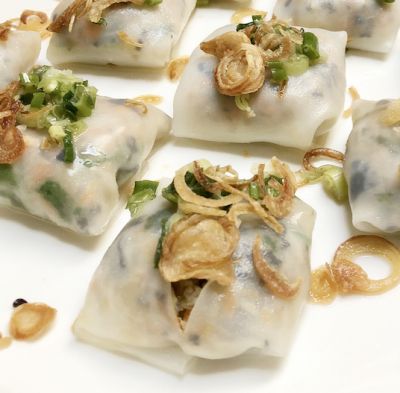 Steamed Rice Flour Pouch (Bánh cuốn)
A combination of vegetable, flour and meat, the dish encompasses varying flavours and textures in just one bite. Usually topped with spring onion, lettuce leaves, mint and other herbs, the pouch is filled with pork and is served in a mouthful size. Generally, the taste of the dish is refreshing but mild.
Dry red or rosé wines with minerality, crispiness and a light body are genial matches. The pork will go perfectly with a slightly oaked wine.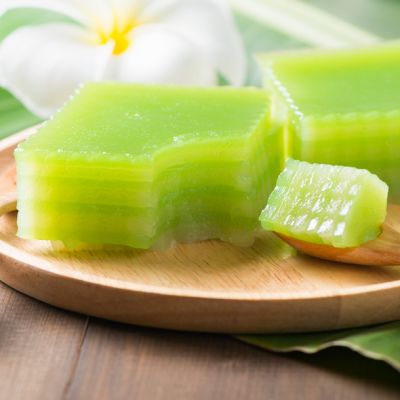 Coconut Layer Cake (Bánh Da Lợn)
Made with sweet gelatine, the cake is beautifully layered with alternate colours. Main ingredients include tapioca starch, rice flour, mashed mung beans or taro, coconut milk and sugar. Natural sweet wine is an obvious choice. Try wine with a lower alcohol content and/or a lighter body wine, as the cake is usually exquisite in taste.